December 5 , evening – December 6, morning, Sunday
Shoham . With Efrat & Mika
MY DESIRE TODAY



My Desire is,
that I may know how to relate to my daughter-
by words or not by words -
so that she will respect me
and not add 'sin to crime' = self-hatred
and so that her being in my womb despite her rejection
will help her self-healing
and so that the time will ripen towards communicaton
between two waves of the one ocean.
Daughter grasping Mother's hand



1974 Greece, walking down the Akropolis


1976 Israel, on a family hike with Naftali
1986 Berlin, in my rented flat around Christmas:
she visits me during my work as a guest-lecturer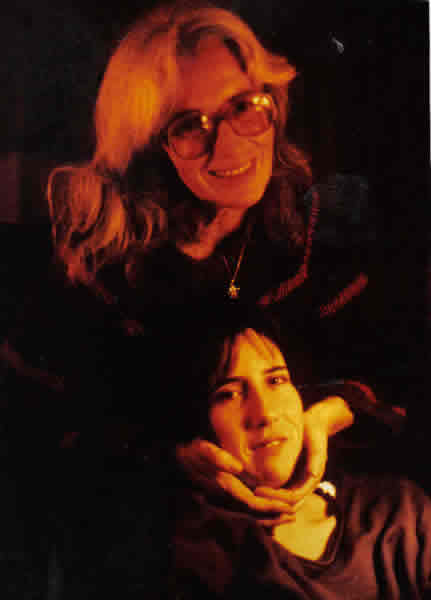 On June 23, 2009 I had initiated yet another attempt to put an end to the 6 years of her disconnection.
Humorously I reminded her that according to biblical law, the seventh year is the year of the Shmitah.
during which the land is left to lie fallow and all agricultural activity, including watering, is forbidden.
Couldn't we turn this around, and after 6 barren years declare a year of sowing, watering, harvesting?
She did not kick directly, but she demanded, ~~~~and in another email made it a condition,
which in a third letter became outright, outrageous blackmailing in a haughty, humiliating tone:
"Only after you'll have deleted any text, name or photo concerning my family from your website,
can we proceed and check, what is possible."
Even if the content of this condition-sine-qua-non would have been less important -
it was out of the question that I would and could base any relationship on blackmail.
As to the content, I would have had to destroy my 8 year work of healing & creating!
Imagine an artist who has been weaving a pretty tapestry the size of a tennis-court
is demanded to rip out of the tapestry all purple and yellowish and reddish threads!

I understood that I had staged this in my drama, in order to let go of "appeasement".
June 27, 2009, from my "WORD" Archive, now doubly relevant
I read my daughter's letter (and alarmed Yaacov via SMS) at 22:45 yesterday night, June 26, 2009.

After "inhaling God and exhaling Love" to my feelings,
I received two hints through reading pages in my archive, while trying –in vain- to fall asleep.
(1)
The title of a protest by people from Kiryat Arba against the USA after the Yom Kippur war was:
"We are your staunch allies, not your servile puppets!"
When I translated it into an affirmation concerning my daughter, I felt immediately better.
"I am your staunch ally, my daughter, not your servile puppet!"
But then I remembered a quote from "Abraham" which had reached me by e-mail today:
'I must be aware of bad things
(of my daughter's blackmailing and humiliating me)
and I must watch out for bad things by trying to guide myself toward good things.'
You can't do both at the same time.
You can't watch out for bad things,
and allow good things at the same time.
It is vibrationally not possible.
I realized that there was still a bug in that "ally-puppet" phrasing!
I decided to omit the second half of the sentence,
and transform it into a true affirmation, or better: "DESIRE":



"My daughter, I am your dedicated, staunch, loyal ally!"

(2)
The other hint I got was an example of "releasing judgments and beliefs",
at a time when I had no idea about this concept.
It was after 18 months of deep (R. later called it: "clinical") depression 1972-74
In the process of my continuous coping with longing for death I understood,
that I could change at least one belief
which had to do with my lack of self-worth:
the belief that things and I had to be perfect.
(See what I wrote to Naftali Raz , 9 years younger, then a kind of "peer" for me : 27.12.1973)

After 36 years , in the year 2009, I still have to train myself :
I release the judgment that I have to prevent others from judging me.
I'm able to bear the shame.
I release the judgment that I have to prevent others from being hurt by me.
I'm able to bear being bad.

And I came to the following decision - then, on June 27, 2009


"Should I take any practical step at this stage? ~~~~No!
I won't react to the letter and I won't share it with anyone except with Yaacov.
I shall INHALE GOD and EXHALE LOVE to both:
to my desire: "My daughter, I am your loyal, staunch, dedicated ally!"
and to any feeling of victimhood and righteousness and urge to blame
that still wants to vibrate.
[end of diary of June 27]

The above decision is still true today, on December 6, 2009,
though I now learnt, that it was my daughter. who told people about my non-reaction,
and not understanding, that I view that demand as blackmail, those people judge me.
I now see clearly, that any verbal approach would draw out reactions,
for which my only daughter would hate herself, awarely or unawarely.
This is the last thing I desire for anyone! leave alone for my daughter!
I prefer to trust, that from viewing me as "un-wanted" in her drama,
she keeps launching "rockets of what she does want" to "All-She-Is"!



December 6 , evening – December 7, afternoon, Monday
Shoham: Parting from Efrat & Mika. Immanuel who returned at 7:10, drove me to the train-station
MY DESIRE TODAY




My desire is -
that my daughter will discover her light in the darkness
and focus on all the good
in her life, her family, her creation
and especially in herself
After strenous hours of emotional and creative work on yesterday's DESIRE,
during which the last trace of resentment against my daughter melted away,
it so happened, that my daughter-in-love told me that my daughter had called.
"The reason was technical, but I asked her, how she was. She said: not good.
But she did not want to talk about it, claiming that it would not help anyway!"
Since then my heart is bleeding for my child as any true mother's heart would.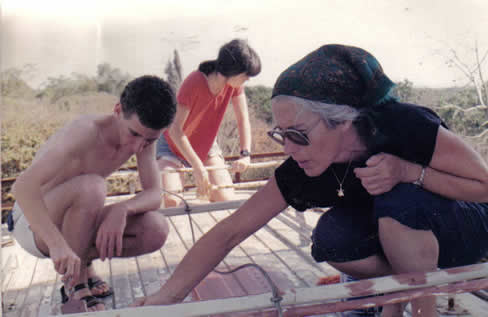 1985, Ramat-Hadar: my daughter and her future husband help me with the roof of my bus
My daughter's wedding 1987 and her visit at Herzliya beach, where my bus parked in Aug. 1988
Towards Chanuka I taught Mika Ronnit's and my special song,
which teaches to embrace both poles:
Bless, Chanukia,
over darkness and over light,
Tell, Chanukia,
how we created freedom for ourselves
Help, Chanukia,
that we won't forget that it's like that
let's be joyous, let's be joyous
Thus we'll remember the light,
thus we'll remember the darkness,
remember freedom
let's be joyous, let's be joyous
"You are not right , Grandma," said Mika angrily yesterday,
"we are not accepting darkness, we are evicting darkness"!
"Well, non-conformism is not learnt at this age!" said her mother....
I was stunned!
I had NOT taught Mika our "correction" of this most popular song!
In fact, it was this protest of her, which reminded me of our song!
my daughter's version



We came to accept darkness,
in us there is light and shade
each of us is a small candle
and all of us are lasting light
to strengthen the hope
for peace, for love

my own version based on my daughter's version

We came to accept darkness,
in us there is light and shade
each of us is a small candle
and all of us are lasting light
light and darknes were created by God
with both we shall be whole
December 5, 2009


computer screen Shoham
Abraham/Hicks: The Vortex p.212-219

Getting into Your Powerful Vortex of Attraction
... Everything that you know around you as the real physical stuff-
is just an extension of thought.
[NO! also of Will, the magnetic essence,
without which the electrical essence cannot do anything!]
...
You are on the Leading edge.
The manifestation time between the inception of thought
and the lining up with it is seconds in many cases.
You are on the brink of instant manifestation, in many cases, for this reason:
You are not new to creation, you are longtime creators,
and you have set a lot into motion
even before you came into this physical body.
You had a Vibrational Escrow brewing
before your feet even hit the ground here.
And now, with the last conversation you had with someone,
with the last thing you watched on television,
with the last book you read,
with the last movie you went to,
with the last thought you thought,
you have been contributing to this Vibrational Escrow;
and it is brewing.
No, it is swirling.
It is a gigantic Vortex of Attraction.
(Now, you've been hearing about the Law of attraction,
but few are even coming close to understanding
the power of the Law of Attraction.
This is the Law that creates worlds.)
So, here is this swirling Energy.
How'd it get there?
You put some of it there before you were even born.
You've been putting it there every day of your physical experience~~~

So , here is this Vortex of becoming.
This Vortex of becoming.
This vibration - this pure Vibration of all the things that you want,
all the amended details that you've been asking for -
there is a swirling, swirling, swirling, swirling.
And the Law of Attraction is summoning all (her-his), all cooperative parts to it.
Cooperative parts, meaning "things of a Vibrational Match."
...all things necessary to fulfill what you've been asking for
are being drawn by this powerful Vortex of Attraction.

Contrast Really Isn't about Something Going Wrong.

We want you to reach the place where you are willing~~~
not just willing, determined
~~~ not just determined, eager~~~
to let go of the need of control of things
that are uncontrollable -
like what anybody else is doing
and give your undivided attention
to the only thing you can control,
which is
how you feel
in any given circumstance.
...If you could just accept that you have amassed a huge Vibrational fortune
that is ready for you to begin tapping into immediately,
and all that is required in order to tap into it
is a willingness to look in the direction of what you want -
which will cause you to no longer look in the direction of what you don't want -
life will begin to get better for you, right now.
And that is our strongest message to you:
Life is supposed to be good for you.
You live, whether you know it or not~~~ you live as the full recipients
of a hurricane of grace that is flowing toward you, at all times,
in answer to all that you have been asking for.
Not one of you has been separated out
as one who should not be the receiver of it.
All of you are in the full fow of this hurricane of Well-Being.
and as you understand that, and you begin to stand up
with an attitude of willingness
to receive the benefit of this Well-Being and worthiness
that's flowing to you at all times,
as you stand right where you are,
right now,
and do your best
to find the best of the positive aspects that surround you.
Look for the things to appreciate, even if there aren't that many.
Look for things to feel good about,
even if there are more things to feel bad about.
Give your attention, as best you can,
to the best things that are going on in your experience,
with the determination to train yourself into the best-feeling Vibration
that you can find right here and now.

Today, no matter where I'm going,
no matter what I'm doing,
no matter who I'm doing it with,
it is my dominant intent to look for and find things that feel good
when I see them,
when I hear them, when I smell them,
when I taste them, when I touch them.
It is my dominant intent
to solicit, experience, and exaggerate
and talk about and revel in,
the best of what I see around me here and now.

Are you Ready to Meet Your Vortex?

You have control of everything that rendezvous with you
when you get control of the Vibration that you offer,
and you get control of the Vibration that you offer
when you care about how you feel.

When you care about how you feel
and you lean in the direction of what feels best,
you become, in a very short time,
a Vibrational Match to who-you-have-become.
And then people who are watching you say,
"What happened to you? You're just happy all the time,
and every time I turn around, some other wonderful thing is coming to you."
And you say, "I got in the Vortex".
Look forward to hope because when you get in the vicinity of hope,
you'll get in the Vortex.
Occasionally (every day) somethng will happen that will give you evidence that you are the Deliberate Creator of your experience.
If you can hang around in hope,
even only on two or three subjects,
you'll get in the Vortex enough that you will come to believe.
...
* You'll begin to believe in the power of your thought
* in the goodness of this Universe
* in the worthiness of your Being.
* in the power of who-you-are
* in the cooperative Law of attraction
* that all things are possible.
* that you are the creator of your own reality.
*You'll begin to believe that you can control your thoughts
by paying attenton to the way you feel.
* You will begin to believe that you can be or do or have anything.
...
So, what's the holdup?
"I don't like this..."
Really insignificant, unimportant, petty little things that you're using,
... as your excuse not to get in the Vortex.
Isn't that lazy?
When you could just as easily
look for a hopeful thought as a pessimistic thought.
You could just as easily
look for a compliment as something derogatory...

The Law of Attracton and Law-Based Premises

* You are the creator of your own reality.

*You were worthy before you focused into this physical body,
and you still are now






"by chance" my daughter-2001-appeared on today's screen


* You are more Non-Physical Source Energy Vibration
than you are the flesh, blood, and bone Being
that you see here in these physical bodies.
It is uplifting to see, how Right Use of Will [page 14], states these same facts:
Evolution is the process
through which these parts can change and grow with you.
You need to evolve all of you,
not just your higher levels of vibration.
For truly, you all came to earth as complete Spirits
and became physical by slowing down a part of yourself
until it became dense enough to be called physical.
The process of birth and death came
when the power to speed up the dense part
was lost in the confusion of experiencing its new vibratory rate.
Right Use of Will is going to give you the understandings needed
to recover the lost power
of leaving the physical plane with your entire being,
rather than just a part of it.

* The Law of Attraction is responding to everyone equally across the board.
* The Law of Attraction, which responds to everything and everyone, says,
That which is like unto itself, is drawn,
so whatever Vibration is active,
the Law of Attraction is making it more active
by bringing more things that match it to it

* You are Source Energy,
with a perspective that the Law of Attraction is responding to,
and you are physically focused, Leading edge, genious creators,
out here on the Leading edge of thought
in your magnificent bodies
in this time-space reality of perfect diversity
- and the Law of Attraction is responding to that aspect of you, too,

* As the Law of Attraction responds to both Vibrational aspects of you,
you feel the harmony, or not,
of those two Vibrational relationships.
The better you feel,
the more that physical part of you is in sync with this part of you.
The worse you feel,
the more that part of you, that physical part of you,
is out of sync with this part of you.

*When life, in your physical form, causes you to know what you don't want,
it causes you to know - whether you speak it or not - what you do want.
And when that occurs, you emanate a Vibrational request
that the larger part of you receives and responds to and becomes immediately
- and the Law of Attraction, in that instant,
begins responding to that newly formed Vibrational version of you.

Abraham/Hicks: The Vortex p.220-222

* There is a Vibrational Reality that is amassing constantly,
which is the true you.
There is the physical reality, the knock-on-wood, manifested, actualized,
"I can see it, taste it, smell it, hear it, touch it" reality;
and that reality is only slightly different than the Vibratonal Reality
in that what's already manifested ~~~
you've just been thinking about it long enough
that now it's showing up to give you awareness
of how you've been vibrating.

* everything that you are living is a manifestational indicator
of your mix of Vibrations.
...The most dominant premise that is misunderstood in your physical reality
is that when someone perfomrs something that you disapprove of,
it is a good idea for you to point it out, or you might get more of it.
When the reality of it is, the more you point at what you do not want,
the more you hold yourself in a consistent pattern of Vibration
that disallows what you do want.

...
A belief is only a thought that you keep thinking.
And you, as human Beings, are the harborers of so many unproductive beliefs.
the largest among them: I'm not worthy
~~~there's no gain without pain
~~~ I must have been born under the wrong star
~~~Must be karma
~~~ Probaby my mother's fault
~~~ It's the government's fault
... take your power back
by remembering that a belief is only a thought that you keep thinking.
... When I think a thought, it activates a Vibration;
and when a Vibration is activated, my point of attraction kicks in.
So if I keep thinking this same thought,
and I keep activating this point of attraction,
and the Law of Attraction keeps responding to this active Vibration,
then I'm going to continue to get results,
not because they're true, and not because it's reality,
but because it's the Law of Attraction's consistent response
to a thought that I keep thinking."