November 2 , evening – November 3, morning, Tuesday,
at Arad , alone in my castle
MY DESIRE TODAY




My desire is – to solve the dilemma:
Are Damon Toth (Canada, co-participant in Godchannel-forum) and I
meant to convert potential peership into real peership,
and is the fact, that I'm triggered by him,
meant to help me heal more holes in my wholeness,
or is this a waste of time and love at this stage
and it would be better to leave this virtual relationship?

It's absurd, how I've finally attracted a potential peer to my life,
who -like me- participated in the Godchannel Forum in 2000-2001!
(See there Damon's "In dedication of Body" and the following thread)
someone, whom -years ago- I tried to contact several times in vain,
and now, that he has come, I am so triggered, that I would prefer..
I am deterred by his very name: Damon (demon?), Toth (tot=dead in German).
Now his Internet- Blog brings up more triggers, the first two being:
his face hidden behind eye-glasses and a moustache that disgusts me,
and his profession: Real-Estate-Agent, arouse a multitude of judgments
and though he explained his satisfaction from this job in a way I could accept it,
---together with the main trigger - his xxxxxxx behavior in his letters - I can not.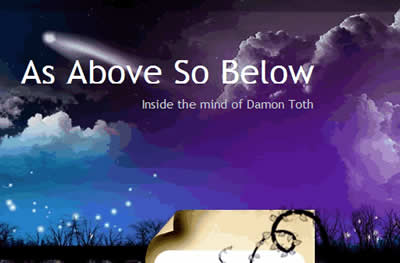 But I do love his self-love , as it comes to light in his self-description:
It's a long story, but a good one.
I have found fascinating things about many things.
I have been fulfilled in ways
that I never expected.
I am full of hope for a greater future for many and the earth,
but ready for the disappointments.
I am learning to be my destiny~~~
I have come to know myself,
I have come to know the creator.
I like my sense of humour,
I like my sense of talk!
I like the crunchier peanut butter better.

I love to laugh and talk a lot,
I am a good orator and speaker,
I have become a really interesting guy, and my partner loves me for my company.

I have come to see the good in people,
and have learned
to be gentle with others.
I like to reflect on my life,
because it is my life!
Not too much bothers me anymore.
I am a very intense person, that can be charming and quite charismatic, but most times more serious.
I fight my temptations,
and the devil is in the details.
From "AS ABOVE SO BELOW" by Damon Toth
p. 282-4 We all try to avoid feeling certain feelings that we have
by never allowing ourselves to think about them.
When we think,
we have emotions reacting to our thoughts and responding to them.
... we tell our minds to switch to somethng else hoping
that it will move us away from our gap [where the denied feelings are]
This rarely works of course, and what then usually happens is
that we feel these awful things until they finally go away.
They are gone, but not for good.
They will be back again
as they didn't get the movement they needed to get out of the gap,
as you didn't accept them.
...
Having acceptance for those feelings means
bringing your mind's consciousness into those feelings
and not judging them as bad to have or wrong to feel.
There are as many triggers as there are stars in the sky,
and each one has the same effect; it knocks us into our gap,
...
For our feelings to express fully,
our minds need to remove the judgments
that it has put on these feelings
by saying that they aren't bad or wrong to feel that way.
Once this is done, they are free to express in our bodies.
These movements can be any movements.
Sometimes, it is rocking yourself to sleep,...
sometimes it is making the most unusual sounds...
sometimes it's screaming ... while jumping up and down.
... Whatever it takes for those feelings to move
is giving them expression....
Our first e-mail exchange: Oct. 10-13
On Sat, Oct 10, 2009 at 7:03 PM, Damon Toth <damontoth@sympatico.ca> wrote:
Hi This is Damon Toth, author of As Above So Below. I just came onto your site,
and read that you had tried to obtain my book. Please let me know if you ever did
get a copy of it, maybe I can help in that. Kind regards Damon Toth

Dear Damon!!!!! (Shoham, Oct. 13)
In the past I've tried several times - in vain - to contact you,
because your were one of the few on the Godchannel Forum,
whom I felt to be on my "wave-length"
and who "received me". ....
I managed to buy the book,
the only book in years,
with the credit card of my son.

I read the book eagerly,
and just, just now I held it in my hands,
when I was about to give away a third of my books
to a Bedouin teacher of Hebrew,
who wants to set up a library in his school.
Your book , of course, I kept...
But it is in my tiny "castle" at Arad (near the Dead Sea),
while at present I am on my family assignment at Shoham (near the airport),
as always, when my eldest son, now a pilot of El-Al airline, is on long flights.
I would have told you, what was the most important passage for me in the book.
(s. the quote on Oct. 26-27 about "How I am responsible for the perpetrators/victimizers")
I don't know now how to communicate with you
or if it's right timing to even start to communicate.
May be you know better...
Christa-Rachel


Today's e-mail quote - Abraham 2002
Everything exists for joy.
There is not one other reason for life than joy.
We've got nothing to prove to anyone,
because nobody other than All-That-Is is watching.
... We're not trying to get someplace else;
we're not trying to get it done,
because there is no ending--we cannot get it done.
Everything exists for the purpose of joy in the moment.





November 3 , evening – November 4, morning, Wednesday,
at Arad , alone in my castle
On November 4, 1960, 7 times 7 years ago, in Jerusalem - Rafael-Christa -everything began,
at least everything that has to do with the 16 co-actors in my drama in the State of Israel.
MY DESIRE TODAY




49=7x7 years after the joining together of Rafael-Rachel
m y d e s i r e i s a d d r e s s e d d i r e c t l y t o
YHYH who visits the fathers' avon*
upon the children unto the third and fourth generation:
Please – convert the law which defines
that the denials in the life of father and mother
will have dire consequences in the lives of their children and grandchildren - from "mafria' le-mafrae" , "from frightful to fruitful"!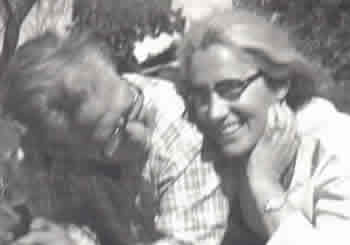 You said, "I will go forth, into a sea of contrast;
and from it, more ideas will be born."
I wished, I had received "Abraham's" teaching about CONTRAST,
before and during and after my drama with the father of my children.

Yes, before I started to suffer from the fact , that I was "disturbing"!
That I should not have been born , since I was causing people pain!
I know now, and into depth really only now - thanks to "Abraham",
that OTHER PEOPLE CHOSE and CHOOSE me - "for contrast".
I know it now, whenever I see people in the pool swimming straight,
forth and back and forth and back , for half an hour in the same line.
Sometimes - I get to hear the anger about my swirling like a dolphin,
though nobody is forced to go out of his/her track to avoid collision!
I always manage to flip across the separating spiral~~to evade them.
They are angry, but maybe a desire is born to leave the beaten track!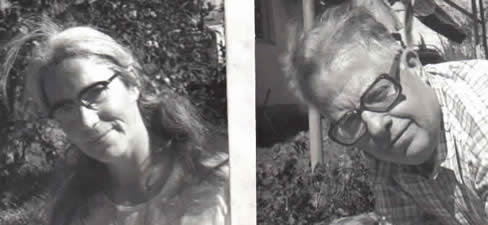 May 1979 - glued only on paper side by side - 15 months before Rachel left Rafael

From puzzle piece 1b: Driving Backward to Retrieve Goodness>2001_12_06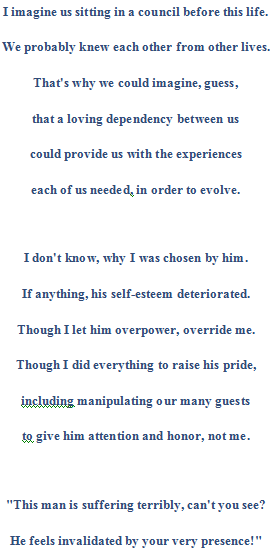 Today's e-mail quote - Abraham 2003

A happy life is just a string of happy moments.
But most people don't allow the happy moment,
because they're so busy trying to get a happy life.



November 4 , evening – November 5, morning, Thursday,
between my castle at Arad and my family at Shoham
MY DESIRE TODAY






My desire is – that it will become clear to us now,
for what purpose Moshe and I chose each other for our dramas,
and that this purpose will begin to manifest and become realized.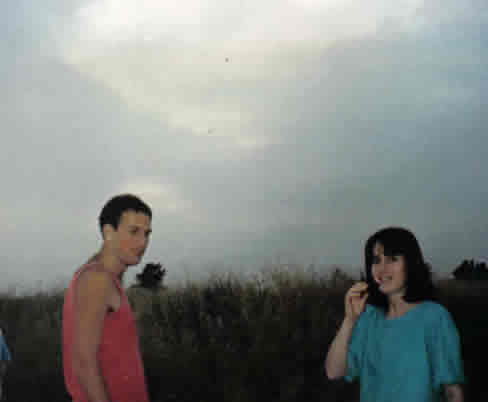 Under an open, opening sky, my daughter and her husband's friend: Moshe Klein
Pesach 1987, between Bazra and Ga'ash ,- in an open field where my bus parked.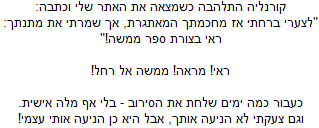 When searching for "mathematics" on Healingkiss-Search,
I didn't find the paper of Moshe, which I once had inserted, but I found this:
From an unsent letter to the Palestinian Lucy Nuseiba in 2003
.................
"Can you accept a working theory,
that all the mess you and the world find ourselves in,
has to do with unawareness and denial of emotions?
And if so, can you open up
to becoming the first Learning Society with the aim of coping with emotions?
Even before the world will know about the planned spectacular event
and start to turn their heads into realizing self-determination
instead of indulging in victimhood
you'll set an example of learning, of training, of finally admitting,
that with all our fantastic achievements we still live in the stone-age,
concerning the evolution of our emotions,
which will be – some time in the future – recognized as the best part of living."
Before outlining my plan of a "spectacular event", I quoted, what gave me courage:

"In 1530, Copernicus gave to the world his work De Revolutionibus,
[the original meaning of the Latin "revolutio" is: rotation, orbiting, circling]
which asserted that the earth rotated on its axis once daily
and traveled around the sun once yearly:....
Copernicus was in no hurry to publish his theory,
though parts of his work were circulated among a few of the astronomers
that were giving the matter some thought;
indeed, Copernicus' work might not have ever reached the printing press
if it had not been for a young man who sought out the master in 1539.
George Rheticus was a 25 year old German mathematics professor
who was attracted to the 66 year old cleric, having read one of his papers.
Intending to spend a few weeks with Copernicus,
Rheticus ended up staying as a house guest for two years,
so fascinated was he with Copernicus and his theories.
Now, up to this time, Copernicus was reluctant to publish,
-- not so much that he was concerned with what the church might say...
(De Revolutionibus was placed on the Index in 1616 and only removed in 1835)
but rather because he was a perfectionist and he never thought,
even after working on it for thirty years, that his complete work was ready, ...
Copernicus died in 1543 and was never to know what a stir his work had caused.
…Two other Italian scientists of the time, Galileo and Bruno,
embraced the Copernican theory unreservedly ...
Giordano Bruno had the audacity to even go beyond Copernicus,
and, dared to suggest, that space was boundless
and that the sun and its planets were but one of any number of similar systems:
there even might be other inhabited worlds with rational beings
equal or possibly superior to ourselves.
Bruno was ...burned at the stake in 1600.
Galileo was ... in 1633, ..., forced to renounce all belief in Copernican theories,
and was thereafter sentenced to imprisonment for the remainder of his days.
.
Goethe: "Of all discoveries and opinions,
none may have exerted a greater effect on the human spirit
than the doctrine of Copernicus…."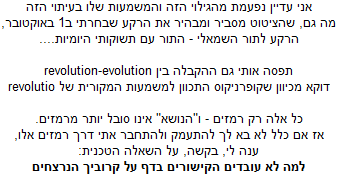 I ask Moshe, why the links on the page about his murdered relatives don't work,
and "use" the memory of that list to tell him about the recent journey to "Poland"-
of Jonathan & Rotem, the children of my son-in-love, who was Moshe's best friend,
and of Shira & Yahel, the twins of Yaacov, whom Moshe knew well - 20 years ago,
together with three of Israel's Democratic Schools, which are close to Moshe's heart.

After having begged Moshe to inform me,
where Internet visitors can learn about him and his revolutionary wisdom,
I expressed another - but not unrelated - quest:
Where can I find a 3 dimensional, moving model of the solar system for Mika?
She will be four on Dec. 20, and after almost 3 years of intense living-together,
"the relationship between us has become very mature".
"you might remember,
what I said 21 years ago, in that cafe in Tel-Aviv, Dizengof Center,
(we met there by chance, when I visited my daughter, who had a job there as a sales-woman)
"you were excited about my Succah idea,
(now called: a Vision about Peace through Desert-Hosting-Economy)
and said: "In this I want to support you!" and that's what you did all along."
I predicted then, that I would give my life to my vision till the age of 70
"and then I'll dedicate myself to the stars".
"And though the predictions came true only partly, they are not forgotten!"

Having come that far - through many hours of thinking and sculpting -
(and finally asking him, if he wanted to publish that refused article on my website)
I suddenly understood the message of both, my letter to Moshe and today's Desire:




"And now I feel like telling something - not by hints - but expressively:
If the Copernican theory, your re-volution ,
would combine with the e-volution of your emotion,
then Creation would truly advance!"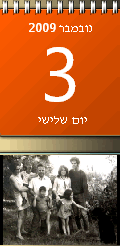 my family in 1975

Abraham/Hicks: The Vortex p.14-15
Your Relationship with Your Parents

Flawed premises,
around your relationships with your parents.

From your Non-Physical vantage point, you understood
that your physical parents
would be your important avenue into physical experience,
and that you would be born into a stable enough environment
to be able to get your physical footing. …
But you did not intend to look to them
to determine your life's purpose for you,
or for guidance about the correctness or effectiveness
of your physical journey.
…,

when you were first born into your physical body, the relationship
between you and You (your Non-Physical Inner Being) was such
that you were nearly still that One Pure, Positive Energy.
But in those very first new days in your physical body,
you began to experience a gradual shift in your own Consciousness

… as the new infant in your mother's arms,
you had two Vibrational vantage points active within you
—and so, you then began to feel emotions.
Since you just came from an environment
where you had absolute knowledge of the Well-Being
of the Universe and of planet Earth and of All-That-Is,
when your mother held you
and worried about you—
you felt uncomfortable.
When your parents felt overwhelmed with their lives—
you felt uncomfortable.
When they gazed at you in pure love and appreciation—
you felt the alignment of their Beings,
and you felt comfort.
But, even in your infancy, you remembered
that it was not their job
to shine their alignment on you.
You remembered, even then—even before you could talk or walk—
that it was not their job
to provide a haven of comfort and aligned Energy for you.
You knew it was your job,
and you knew you would figure it out.
And, meanwhile,
you were able to easily withdraw back into the alignment of your Oneness—
and so you slept.
Often.
You came into this physical environment knowing
that you would be surrounded by contrast right from the beginning,
and that this contrast
would provide the nucleus of the creation
of your own life experience.
You understood
that just by being present in this Earth environment,
you would automatically find your own preferences,
and that both wanted and unwanted aspects
would be of benefit to you.
And, most of all, you knew that you would be the one (the only one)
who would (or could) choose for you.
However, by the time you came into the life experience of your parents,
they had (in most cases) all but forgotten that about you.
Which brings us to another flawed premise:
Flawed Premise #2:

my parents,
because they were herelong before I was born,
and because they are my parents,
know better than I do what is right or wrong for me.

Abraham/Hicks: The Vortex p.16
You did not intend to use the opinions of your parents
to measure against your beliefs, desires, or actions
in order to determine the appropriateness of them.
Instead, you knew (and still remembered, long after you were born)
that it was the relationship
between the opinion (or knowledge) of the Source within you
and your current thoughts, in any moment,
that would offer you perfect guidance in the form of emotions.
…
Of course, it is possible
to have a wonderful, effective relationship with your parents
if you first find the alignment between you and You.
But, unless you have achieved alignment between you and You,
no other relationship can be a good one.
Abraham/Hicks: The Vortex p.17
Your Relationship with Your Siblings
Instead of achieving their alignment with who-they-really-are,
they are asking you to behave in a way that makes them feel better.
That is what conditional love is:
"If you will change your behavior or condition,
then as I observe it, I will feel better.
So I am giving you the responsibility for the way I feel."


When the second child enters the mix,
not only is there now more behavior for your parents to attempt to control,
but an even more confusing thing occurs for you:
now, not only are you considering your own behavior
in relationship to your parents' response to what you are doing,
but you are observing the way
your parents are responding to the behavior of the other child.
The potential for distortion and confusion exponentially expands
with each new person who enters the mix.
Trying to achieve your proper personal behavior
is not possible through trying to adjust
to the desires and demands of the people you live with.
There is simply too much variety
in personality, interest, intention,and life purpose
coming in for you to sort it out on a behavior level.


But there is something you can do
that will bring each of these relationships
into perspective and satisfaction for you:
Seek alignment between you and You, first,
before you engage with any other.
And never ask for a behavioral change from any other
to use as your basis of improved emotion or perspective.
There are simply too many moving parts,
and you will not succeed.
[Abraham/Hicks: The Vortex p.14-15Pages 17 till 28:
in "LEARNING & LIVING TODAY, April 2005]


Efrat with Tomer and Yael 2001
Abraham/Hicks: The Vortex p.28-29
The opposite was your intention.
You said, "I will go forth,
into a sea of contrast;
and from it,
more ideas will be born."
You understood that joyous expansion would be born from diversity.
But as you attempt to control them (through influence or coercion),
you discover that not only can you not contain them—
but your attention to them brings more like them into your experience.
Your current society
is waging a war against illegal drugs, a war against poverty,
a war against crime, a war against teenage pregnancy,
a war against cancer, a war against AIDS,
a war against terrorism . . .
and all of them are getting bigger.
You simply cannot get to where you want to be
by controlling or eliminating the unwanted.

The flawed premise
"My group's/our way of life is the only correct way,
therefore all other ways must be stopped,
because when I look at what I do not agree with, I feel bad"

is the basis of the majority of unhappiness on your planet.
Not only do those being pushed against feel the pain,
but those doing the pushing feel it as well.
In fact, the unhappiest,least fulfilled among you
are those who are pushing against others,
because, in doing so,
you are disallowing the most important relationship of all:
the relationship between you and You.
While it was your intention
for new desires to be born within you
and to accomplish those desires,
you had no intention of hindering, in any way,
the desires of others.
You knew that this world is big enough for everyone
to create their own desires.
And you were not worried
about being hindered
by your observation of their creations
(even if you did not like what you saw)
because you knew
y ou had the power to focus upon what is wanted.
And so, ridding your world of your personal unwanted
was not necessary.
You intended to decide what you want
and, by the power of your focus
and the Law of Attraction,
to attract it—
and to allow all others to do the same.
You understood that diversity
not only provides the basis
of your strength and of your expansion,
but of your very existence—
because if there is not expansion,
existence cannot continue to be.


Do We Have Power to Influence Others
Rather Than Control Them?

When someone seeks control over another person, or over a situation,
they never achieve it,
because in the attitude of control
there is such a big component of knowing what you do not want
that your Vibration and point of attraction
are working in opposition to your actual desire.
Even though you may join forces with others
to push against the unwanted,
and even when it appears
that your forces have overwhelmed the opposing forces,
you never actually gain control—
but, instead, you enhance, or add to, your attraction of more unwanted.
The faces and places may change,
but more unwanted keeps coming,
and you find no sustainable control.
Abraham/Hicks: The Vortex p.30

...
But there is an even more important distinction
than the one between influence and control,
and that is the distinction between trying to get to where you want to be
from your awareness of what you do not want,
as compared to getting to where you want to be
from your awareness of what you do want.
The first is more about trying to motivate another to a different behavior;
the latter is more about inspiring another to a different behavior

In your effort at motivation,
because you are focused upon what you do not want,
you do not have the benefit or help of your true power.
But when you are focused completely upon what you do want—
thereby releasing all resistance or opposition to your own desire—
you are engaging the Energy that creates worlds,
and your power of influence is mighty.
In your connection to, and allowance of, your true power,
your influence
to bring others into their own power
is great.

November 5, 2009


Immanuel & Tomer, 2002

Abraham/Hicks: The Vortex p.30-32
How do we harmonize a diverse family?
.....
You eagerly came into this physical time-space reality
because it is the Leading Edge of creation
and you are a creator.
You adored the idea of focusing on this world of contrast
because you understood the value
the contrast would have in helping you, a creator, to focus and create.
You understood
that your own life would draw from you continual new ideas,
and that, by the power of your focus,
those ideas could become "reality,"
as it is known in the physical world.
And you knew the joy of choosing, focusing,
and allowing the creative manifestations.
You knew that, in every moment,
you would be able to feel the degree of Vibrational alignment
you were achieving
between your current thoughts
and the understanding
that the Source within you has on the same subject at the same time,
and you understood
that those feelings
of positive and negative emotion
would be the sole source
of your guidance
to help you create
and discover
and expand
along your Eternal path of becoming.

Abraham/Hicks: The Vortex p.32-33

While it never feels good to you to view yourself (or anything else)
differently than the Source within you sees it,
over time you became accustomed
to the discomfort of your gradual disempowerment
- until, eventually, you began looking to others for guidance,
leaving your own Guidance to face into the background.
...

First we will direct our response to the child in this situation,
then to the parents, and finally to you who are asking the question:
To the Child~~~

Your parents mean well.
They are mostly just trying to prepare
you for the struggles of life that they have found along their way.
Their behavior indicates that they not only do not remember who-you-are,
but they also do not remember who-they-are.
That is why their behavior is guarded.
They feel vulnerable, and they believe that you are vulnerable, too.

It would take quite a bit of explaining to your parents to help them remember;
and if they were not asking,
they would not hear anything that we have to say, anyway~~~
There is a good chance
that you will be all grown up and out of their house
before they ask, or listen, or remember.

If you are asking and listening (no matter how old you are),
then we want to tell you the most important thing
that anyone could ever tell you:
It does not matter what anyone else thinks about you.
It only matters what you think.
And if you are willing to let them think whatever they want to think
—about anything, even about you—
then you will be able to hold your thoughts steady with who-you-really-are;
and you will, in time, feel good, no matter what.

As you hear this and remember that it is true
that you are a powerful creator
who wanted to experience contrast in order to help you
decide the things that you now want,
it will help you to feel more patient
about others' not remembering.
When you remember
that everything is responding to you and the way you feel,
and you then gain control of how you are feeling,
you will find tremendous cooperation from many different places
helping you gain control of your own experience.

When you are alone and thinking about some of the trouble
you have been in with your parents
—you are inviting more incidents of being in trouble.


Abraham/Hicks: The Vortex p.34-35

But if, when you are alone,
you are thinking about more pleasing things
—you are not inviting more trouble.
You have much more control over the way others treat you
than you sometimes realize.
The less you think of trouble, the less of it you get.
[I again must warn strongly
of the danger of DENIAL!]
The less you think of your parents trying to control you,
the less they try to control you.
The more you think of things that please you,
the better you will feel.
The better you feel, the better things will go for you.

It feels to you
as if your parents are in charge of the way they treat you,
but that is not true.
You are in charge of the way your parents treat you; a
nd as you hear this, and practice this,
their change in behavior will be your evidence.
And the best part is
that you will be showing them (even if they do not realize it)
how to enjoy harmony by inspiring it rather than demanding it.

To the Parents ~~~

The more you see things in your child
that you do not want to see—
the more of that you will see.
The behavior that you elicit from your child
is more about you than it is about your child.
This is actually true of all of your relationships,
but since you think about your child more than most others,
your opinion about your child plays a greater role in his behavior.

If you could de-emphasize the unwanted behavior you see in your child
by ignoring it
—not replaying it over again in your mind,
not speaking to others about it,
and not worrying about it —
you would not be a continuing contributor to the unwanted behavior.
[I remember something that supports the "ignoring",
though I'm not sure, that ignoring is right in every situation:
Immanuel - perhaps at the age of 2 1/2, came home with a very dirty expression.
He said it about one hundred times, but I did not react in the slightest.
He never uttered it again, not go ME, but yes to a wagon-driver on the street.
That man complained and I advised him to do what I did: IGNORE!}

When you hold anyone or anything as your object of attention,
you are leaning in one of two directions:
toward what is wanted,
or toward what is not wanted.
If you will practice leaning toward
what is wanted when you think about your child,
you will begin to see behavior patterns
shifting to more of what you are wanting to see.
Your child is a powerful creator
who wants to feel good and be of value.
If you do not take score in the moment and decree him otherwise,
he will rise to the goodness of his natural Being.
When you are in a state of fear, worry, anger, or frustration
—you will evoke unwanted behavior from your child.