MESSIAH Bat-Sheva & David or The HIDDEN FEMALE THREAD of REDEMPTION in the BIBLE
2004 Preface
blue links - mainly English
orange links - mainly Hebrew

Many pages have been reused since 2009, and the content of the added inserts are rarely listed here.
This content can only be reached through the links which appear in relevant contexts or via "Search"
A few accidental glances into Healing-K.i.s.s.
Last update: 2010_10_06 [see my life's context around this date]
see "You will never get it done,
nor can you ever get it wrong!"

This was MY FOCUS also in 2010 - till...... July 2012!
2013-05-24- But since then, I'm going below the earth
redeeming Lost Will that's been shoved into the dirt!

My focus : exploring & exemplifying
how each-one can discover and live
the Condition for 'Heaven-on-Earth'


which I define as:


'Feeling Grate-full, Feeling Zest-full, Feeling Full-filled'
as ongoing vibration of "HEART" breathing in "BODY"!
To be able to live this, the first assignment is:
"Learning to feel better requires
that you become better at feeling"
H E A V E N O N E A R T H
"Consider a world where everybody enjoys every experience they ever have
and consistently create experiences to satisfy all parts of themselves.
It seems reasonable to call such a world Heaven on Earth.
To the extent that any of us do not experience Heaven on Earth we are obviously making something wrong.
We all take a quantum leap toward Heaven on Earth
when we realize, if only intellectually, that we are responsible for everything in our experience,
that everything is the way it is to satisfy our conscious or unconscious desires,
and that once we stop making something wrong we are free to change it as we will.
Surrendering fully to the task of manifesting Heaven on Earth is tantamount to already being there."
[anonymous]

See now - 2010_10_05, how - in a song - I've "upgraded" and epitomized my life - beyond linear time


Since January 1, 2009, I am following my understanding and new lekh-lekhâ
that - after 8 years - I should no longer create new pages on my 2 websites,
but intermingle the evidence of new experiences with that on existing pages.
A good example is the continuous series of my experience with

"The Walk about Love 2009", inserted in

99 "Godchannel" files

.

A compilation of inserts in other files was moved to '

July 2003

'

as well as a kind of intro to Healing-K.is.s. - attempted in 2009.


April 28, 2009

The greatest experience during "the Walk" is the feeling
that the Biblical prophecy in Malachi 3:16 (close to the end of the translated Christian "Old Testament")
- which I put - in 5 languages - above all the K.i.s.s.-Log 2008 pages since Aug. 15, my 70th birthday -
is b e c o m i n g f u l f i l l e d however hesitantly and falteringly!




az nidberu yir'ee YHWH ish - el - re'eehu ~~~~~ va-yaqshev [YHWH] va-yishma'
Then those who see Ha-Shem, will talk among each other, ~~~~~ and he listens and he hears
[Arabic] yatakaalamuna allathina yarau'na-hu , ~~~~~ va-yusri va-yasma'
Dann die IHN schauen, werden reden miteinander, ~~~~~ und er lauscht und er hoert
Puis ceux qu'ils voient Ha-Shem, se parlent l'un a l'autre ~~~~~ il entends, il ecoute

click the sound-button above all K.i.s.s.-log pages since Aug.15, 2008 and listen to the verse in 5 languages !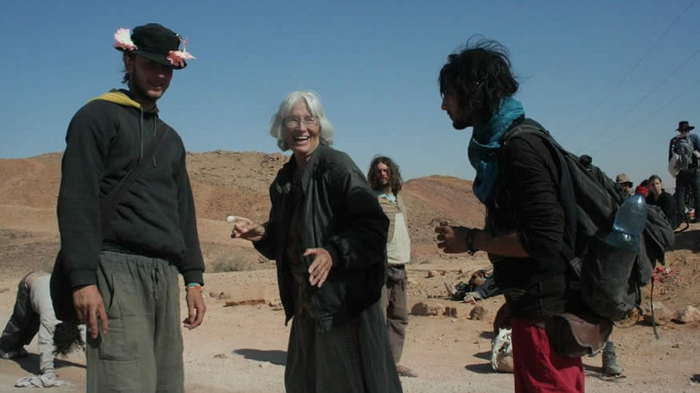 In the desert - with an injured finger - amidst two of my friends among the Walkers from abroad, who joined us Israelis,
Thomas - 22 - from Leipzig, the town where my mother was born in 1909, and Emanuel - 20 - from Italy, who bears my firstborn's name.
May 14, 2009
As strongly - clearly as I heard the message: "Join the Walk!", on Febr. 22,
as clearly and strongly I heard the message: "Leave the Walk!", on May 2 !
After having healed feelings, I joined the Walk to share insights, on May 11.
But -back in my two castles, Bet-Nehemia and Arad - there is still much to integrate and to apply.
You can follow my learning-healing-creating on the background of my edited Godchannel files.


July 30, 2009
Healing and integration - as documented in 99 files on Healing-K.i.s.s.- are completed.
The message, that I should no longer open new pages, is now extended:
"Keep photographing to a minimum!"
Just like reporting on my days in a diary (K.i.s.s.-Log 2008!) - photographing in its five stages means:
witnessing and documenting my life,
i.e. rendering intensity and depth to experiencing, learning and healing, creating and loving, by:
1) focusing on a scene, person or object,
2) transferring the photos to the computer and choosing what is valuable.
3) Cropping the pictures and editing size and quality
4) Creating compositions of the images on chosen pages.
5) Later re-opening or even re-editing of pages
Except for the first stage, all this implies much work, which prevents me from dedicating myself to other work,
though only on July 4, 2012, I understood what this work should be: see my Hebrew-English song on top. .



January 13, 2010
I still do not know, what the work is, but I am in no hurry to find out.
More space, more time free of exterior experiences, seems to appear.
I am breathing, embracing each moment and I am ready & prepared.

Since March 13, 2010
it is clear, that no exterior action or interaction is awaiting me ,
now that I'm free from my inner oppressors.
I am free to lovingly relate to those feelings and body sensations
which I've been judging or denying or ignoring since the beginning.
It seems, that My Spirit and My Will have become whole and one,
playing in the movement of embracing a n d challenging each other.

My free Will and my free Spirit create pleasant circumstances and situations.
I am, therefore, free from personal "functioning" or personal "coping".
I am free to feel and think deeper into the richness of each moment of my life
at this time on this planet, with my co-creatures in Nature and my co-humans.
Mind-full-ness Grate-full-ness Zest-full-ness Full-fill-ment
are the goal and the way, ~ are the breathing in and the breathing out.

And ~~~ I am free to "descend into Hell" and redeem "Will's" Self-Hatred~~~
February 20 , 2011
Again and again: "Laughter is the final stage of healing"...


It took me another 15 months to follow the advice
(see above July 30, 2009),
to keep photographing to a minimum,
and to heed God's pleading
"to cease creating new manifestations" .
It's only now that I truly limit my photographing
[compare the Mika-pages since Jan. 2011 with previous pages]
and - after another 6 weeks - to also limit my verbal sculpting,
I'm now able to totally focus on "Driving Backward".

If I, Bat-Adam, am so slow to apply the messages, that resonate with me,
how do I dare to still judge other people and humankind altogether?

August 8 , 2009
After inserts of new experiences in old pages, which - in their content - were somehow associated, I, today, started a new continuous series ,
this time not like "The Walk about Love" - along the chronology of Godchannel files~~~~~~~~~ but along the 365 dates of my 2007 Song-Game

I shall re-employ song-page after song-page for exploring the evolution of my youngest grandchild,
a starchild whose assignment for this planet seems to be: to demonstrate by her own living & doing,
how to playfully create from moment to moment, thus feeling zest-full & full-filled>Heaven-on-Earth.
[May 17, 2013: she has to demonstrate much more..]

A demonstration of how and when I add new inserts to "old pages", see a list of not systematic- additions to old pages during 2009. ~
As to new songs added in 2009-2011, see Song-Game-Songs' History
A new video: Febr. 21, 2011, shows one (!) connection between my two sons: "Brothers"
| | |
| --- | --- |
| | |


When I reached the end of "Learn&Live 16" on February 20, 2011
[remember , I'm limiting a page to 1300 kilo-byte!]
I felt, that I was mature enough to let go of sculpting any new theme .
My purpose has been since then (but it took another year till I learnt it)
to re-new, to re-learn, to re-create the messages of 10 years work on my websites.
The first relearning/recreating was inserted in "My Training for Wrestling with Tomer" (2003):
May 6, 2003 I now totally went out of my mind,
first because I have that electricity trauma since my accident at 15,
second, because Alon was an expert in building such cycles,
so why didn't he act as his brother's keeper,
third, because the grownups had deserted me despite my quest,
but most of all because of my utter stupidity of chasing around
instead of being there - focused, loving - with my partner Tomer.

I didn't change. I only learnt to surrender to the fact,
that my "Loving Heart" creates such terrible situations.

And I learnt to cope with this in cooperation with Tomer.
I was not the good, wise grandmother of the fairy tales.
I was Tomer's partner-in-torment and he was mine.

February 18, 2011:

I confess, that I still

["Kineret summer 2010]

haven't learnt my lesson.
But remembering that dire incident,

while re-reading this sculpture,


I suddenly believe,
that "to be whole" doesn't mean to be free of flaws and blunders,
nor to be free of pain-attracting judgments like I need to be good,
If I am aware, accepting, responsible for my flaws =

not their victim

,


then I'm"whole" and also the "lessons" will become less and less.



February 19, 2011: "responsible" means,
that instead of judging myself and regretting my mistake,
I face the results and convert the frightful into the fruitful,
as I do with any situation, that was staged by my Cosmic Self.


to "INTEGRATION" : Eliyahu's Lesson or to how I heal myself into wholeness or to the short autobiography of 2009
December 24-31, 2 0 1 2

Over the course of this year I minimized my creating on my 2 websites.
The only realm in which tiny creations do occur, is the realm of SONGS.
I recorded and worked on new songs with the help of my digital recorder
.
Now towards the end of 2012 I allow myself to create an artful overview
of the lyrics of these songs - without any images and without the TUNES!

Newly created songs by Christa-Rachel

-1-


This song created itself in spring 2012,
when we worked on setting up shemshem.org
the purpose of which should have been,
to show, how there can be "Heaven on Earth"
without the dangerous side-effect of bore-dom.
An unknown song by Shulli Natan (not on the Net),
discovered on an old casette of mine,
attracted the alliteration of shamayim bli shi'amum,
Heaven without boredom.
From Shulli's lyrics I adopted the second stanza,
since it fitted exactly into my new song


-2-
mi-qtzê ha-aretz elaekha aeqrâ


Psalm 61:3


-3-




Genesis 32,25-26 +32-33, see the pages and images in
Ya'aqov wrestling with himself


-4-




-5-
Seltsam im Nebel zu wandern


(German: Hermann Hesse, Hebrew: Rachel)

-6-
Elohim lanu makhasaeh ve-oz

Psalm 46 , adapted to a tune by Martin Luther
to his choral "Aus tiefer Not schrei ich zu dir"
.

-7-
Do no longer fight to get it right


Based on a line of the Hebrew poet Bialik


-8-


Lev. 25,23-24, a law that should be guarded in Israel today!


-9-


Jeremiah 17:8 [8, not 9!] + Psalm 1:3


-10-



Ezekiel 47:12 [chapter 47, not 49!]

-11-
Qovê ha-Shem yakhlifu koakh


Isaiah 40:31+29 + Psalm 9:11

-12-
ve-ata koh amar bora'akha Ya'aqov


Isaiah 43:1-2+10

-13-


Psalm 27:10-11 + Psalm 31:4
see more of Ps 27
in the expanded song Nr. 5, May 2013

-14-
ve-haya yom aekhad hu yivvada la-Shem

Zecharia 14:7-9

-15-


Micah 7:8

-16-

Und meine Seele ist ein Weib vor dir

Und meine Seele ist ein Weib vor dir.
Und ist wie der Naëmi Schnur, wie Ruth.
Sie geht bei Tag um deiner Garben Hauf
wie eine Magd, die tiefe Dienste tut.
Aber am Abend steigt sie in die Flut
und badet sich und kleidet sich sehr gut
und kommt zu dir, wenn alles um dich ruht,
und kommt und deckt zu deinen Füßen auf.

Und fragst du sie um Mitternacht, sie sagt
mit tiefer Einfalt: Ich bin Ruth, die Magd.
Spann deine Flügel über deine Magd.
Du bist der Erbe...

Und meine Seele schläft dann bis es tagt
bei deinen Füßen, warm von deinem Blut.
Und ist ein Weib vor dir. Und ist wie Ruth.
Rainer Maria Rilke, 1901, Westerwede
based on the biblical book Ruth 3:5-9
(See about Rut(h). See more of Rilke)


-17-
DESERT-SONG : ani yeda'tikha ba-midbar
s. how I phrased part of this already in 1984


Hosea 13:5 + Ezekiel 20:5 + Rachel
the 3rd stanza- Hosea 2:16+22 - was added on Febr. 28, 2013



-18-

Es waechst heran ein neues Geschlecht,
ganz ohne Schminke und Suenden,
mit freien Gedanken und freier Lust!
Dem werd' ich alles verkuenden!
Heinrich Heine [see another song by him]


-19-


Micah 5:1-3 - I changed one crucial word ....
"mashal" instead of "moshel"...
See my interpretation of "ad et yoledah yaladah"

-20-


I'm attached to the word "raekhaem" - womb,
in Arabic "rakhm" (see my cave of the womb).
The verb in both Hebrew and Arabic means
to have compassion,
in Hebrew in the Piel-Form.
Only once in the Bible it appears in the Qal-Form,
in Psalm 18:2
Therefore both Martins (Luther and Buber)
chose a special wording as translation.
I allowed myself,
to turn YHWH from the subject of the LOVING
into the object of the Loving
and see YHWH
as male, Spirit and female Will (feelings)

-21-
hinneni holaekhet al khaevel


as to the metaphors "Caleb and Efrat",
see "The hidden female threat of Redemption"
and "Cain and Hevel", see
"Caleb is close to "caeleb"-dog! a dog barks, i.e. "sounds"...
The last 2 lines were modified on Aug. 26, 2013:
"and when you'll be healed and whole,
whole will be the world."


-22-
Every Experience is Valid


the red quotes are from Godchannel and RUOW
On 2013-03-06 I added what I rediscovered
"All my choices are valid
yesh aerekh lekhol bkhirotai"
see also a quote from Veronica in pp52...

Links to existing songs in SongGame 2007,
which were modified or expanded this year






redemption of Adam from Scham, from asham
= from shame and guilt





At peace with all the universe
'full-filled in zest and grate-full-ness'







'a goldmine is offered in what you feel,
embrace what you feel and feel full-filled'





'in Shalem is his succah,
...I'll be shalem, whole, in the succah'







'Enwrap me, my Shekhinah, in your feeling'
































I worked on this .png format 3 times.
Since it always came out like this,
I believe it should appear like this.
It depicts the situation of the psalmist.
See the original song: me-ma'amaqim








aet bitti ha-ahuvah hashivaenna






























-23-

The Mother's Dream
[from Godchannel>folksinterview I]
put in tune
on December 24, 2012


"The Mother's dream is

that all beings in Creation

experience
their true grandeur and greatness.

And in their greatness,

do whatever they desire.




"... and everyone...

be completely

f r e e

and

e m p o w e r e d


to do whatever you want,


go wherever you wish


and be with whomever you choose.



"Free Will,


completely free and j o y o u s

in the presence of
unwavering loving Light

is the truly natural way in our Creation.

And this Creation

is the basis of your own Creation

and the full manifestation

of your g r e a t n e s s."

A Psalm for Nation and World
Though this is not a new song-
see and hear my song of December31, 2008


Newly learnt songs created by other authors



FINDING A WAY TO BE LESS PERFECT



Co-creation of
Yael, my daughter's daughter,
and Arnon, my younger son's son,
at Grandma's, in Arad, on April 1, 2012







"ve-ha-yam lo nirga'"

"Your beauty, the magic which is in you,
you cannot share with everyone,
look around you and love yourself"
This is the chorus in this Hebrew song
which I like very much.
It accompanies Immanuel's
video with stills about Mika in Bangkok
and see my composition - photos and song

THIS IS WHERE I BELONG


I hear the wind across the plain

A sound so strong - that calls my name

It's wild like the river - it's warm like the sun

Yes it's here - this is where I belong

Under the starry skies - where eagles have flown

This place is paradise - it's the place I call home

The moon on the mountains

The whisper through the trees

The waves on the water

Let nothing come between this and me

Cuz everything I want - is everything that's here

And when we're all together - there's nothing to fear

And wherever I wander - it's this that I learned

It's to here - I will always....always return.

(Brian Adams, Spirit Stallion
from the Cymarron sound track.
The video, which Arnon and Yael showed me on April 1,
no longer appears, but the tune (different words!) does.




AN ANCIENT LOVE-SONG



by Leah Naor and Nurit Hirsch,
performed by Hava Alberstein
see the pretty video with the 1967 performance

See the image in the sculpture about my name
in "A Time of Fruition" 2003


ON THE WAY TO THE SKY


We are two and two of us are one

I'm back on my feet again

Out on the street again

Looking for love

On the way to the sky


Some people moving up

Some people standing still

Some hold their hand out

And some people never will

Lover and liers

Consumed by the fires

Of too many dances

But not enough songs

Hear my song


We pity the poor one

The shy and unsure one

Who wanted it perfect

But waited too long

There's no way to count

Or to measure the cost

Of the innocence lost

On the way to the sky

You and I


And we are two and two of us are one

But maybe two of us can be enough

To get it done


Lover and liers

Consumed by the fires

Of too many dances

But not enough songs

We pity the poor one

The shy, the unsure one

Who wanted it perfect

But waited too long

Much too long

I'm back on my feet again

I'm out on the street again

Looking for love

On the way to the sky

You and I

Neil Diamond's singing





RAIN, RAIN!


Lea Goldberg
see a lovely performance and artful video



A SIMPLE LOVE



Wonderfully sung by the Parvarim-Band




MY WAY



Yuval "Ha-mevulbal"- see the wondrous video





"ALL ISRAEL ARE GUARANTORS
FOR EACH OTHER"


lyrics: Dan Almagor, tune:Ilan Mochiach
30 years after my book was published,
I met this song for the first time,
within a satyrical show....
When I now, 2012-12-26, searched for a video,
I found another tune
and a very moving, funny-sad application
in the Israel of 2012


WILL YOU DANCE WITH ME


Achinoam Nini and Mira Awaad
in Hebrew, Arabic and English,
carefully sculpted on 2012-03-06 in Kisslog
See this performance - so beautiful,
though the first stanza is missing.

ADON OLAM


In a program in memory of Uzi Hitmann
I heard him saying,
that this song - see him singing at a young age-
which he created to words in the prayerbook-
was expressing his whole being.
It was just after I had learnt the song myself
from Mika's own singing on my digital recorder.
"My" "God" doesn't want to be seen as a king,
he wants to be my peer and partner,
but since this is still too difficult to grasp
- for Mika and for most people -
I'm grateful for Hitmann's wondrous song.
See our role-play:Moses and YHHW.

An Israeli stamp of 2009

HALLELUJAH
2012-12-31
at 3 AM ~~~e-mail sent from Maureen Moss, The World Puja Network

"So much has changed since the 12-12-12.
It certainly wasn't hype, that the end days of the final cycle
would bring about palpable shifts for many,
so much so that the life and even the work
many "thought" would continue to be, would not..



"Many of my clients have seemed distressed for the mere fact
that those around them are unable to accept that they have changed.
They've changed their minds, their hearts, their interests, and more.

"Some are in a complete void,
some need stillness for deep contemplation, rather than activity,
and some are going to surprise many with new decisions
that will impact others comfort and dare I say expectations.

"... please, allow for the unfolding of yourself and all others in a loving and kind way.
This is a new world, we are walking a new road with a very different vibration."

between 9-12 AM

a last song created itself towards my daily swirling
4 additional short stanzas to my old "orbital" canon
-24-
m a ' g a l i m - o r b i t s - s p h e r e s



Ps.65:10+13; + Rilke (hear a tune to the entire poem)
Ps. 23,2-3 [hear the traditional tune to the entire psalm]
+ Rilke's line in English, + Proverbs 4:11 + Psalm 65:12

Healing-k.i.s.s. is meant to be a work of art.
The Jewish-German-Russian Victor Shklovsky put the purpose of art in a nutshell: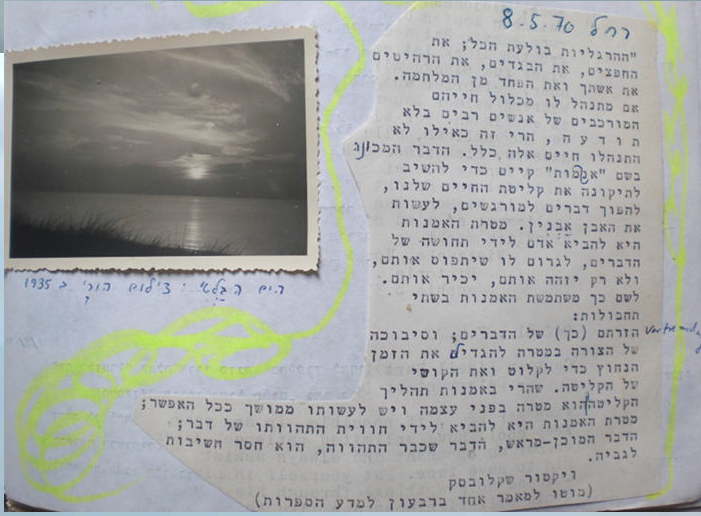 SONGS of 2013 and 2014 at the end of the Calendar Order of the 2007 Song Game